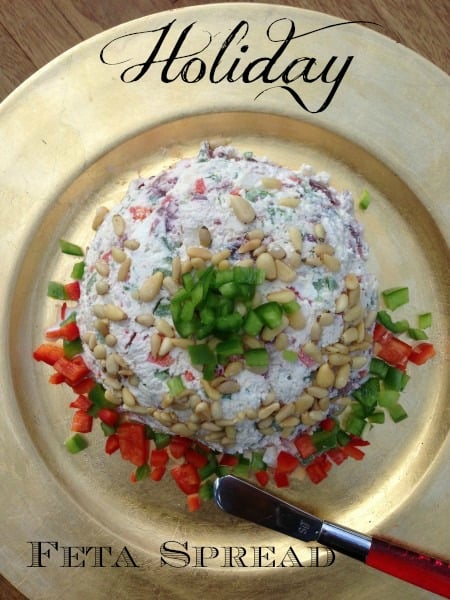 I often look at old recipes and wonder what the food trends might have been, back when mom used to make a specific dish. Many times simple ingredients, such as feta and Mediterranean flavors can span over many generations. Commonly found in today's kitchens this could pass as a new recipe, but this was found in my mother-in-laws pile of well-tested recipes she often made. Feta can be found in the deli section or at your farmer's market.
The mold gives way to age, but you can simply place it in a beautiful lined bowl with plastic wrap, refrigerate it and flip it over for a mold-look and serve it as is – that's what I did.  Cheese rolls or spreads can be found today in every store, but why not make a fresh batch for your guests. You can update it if you want with French goat cheese, sesame seeds, sunflower seeds, garlic, scallions, leeks, green olives, or freshly chopped herbs.

Holiday Greek Feta Spread
Try these Greek flavors for a healthful and tasty dip for your next party.
Author:
Mary Papoulias-Platis
Ingredients
½ lb. feta cheese, at room temperature
½ cup unsalted butter, softened
1 dozen Greek olives, pitted and coarsely chopped
¼ cup finely chopped onion
⅓ cup finely chopped red bell pepper
⅓ cup finely chopped green pepper
1 tablespoon chopped fresh dill
⅓ cup toasted pine nuts
Instructions
In a food processor, blend cheese and butter until fluffy and smooth.
Remove to a bowl and mix in olives,onions,peppers and dill
Pack mixture into an oiled 2 cup mold or bowl.
Chill until firm.
Unmold, garnish with pine nuts .
Serve with sesame crackers or a baguette.
 These Greek flavors just pop in your mouth with a fresh and crunchy taste.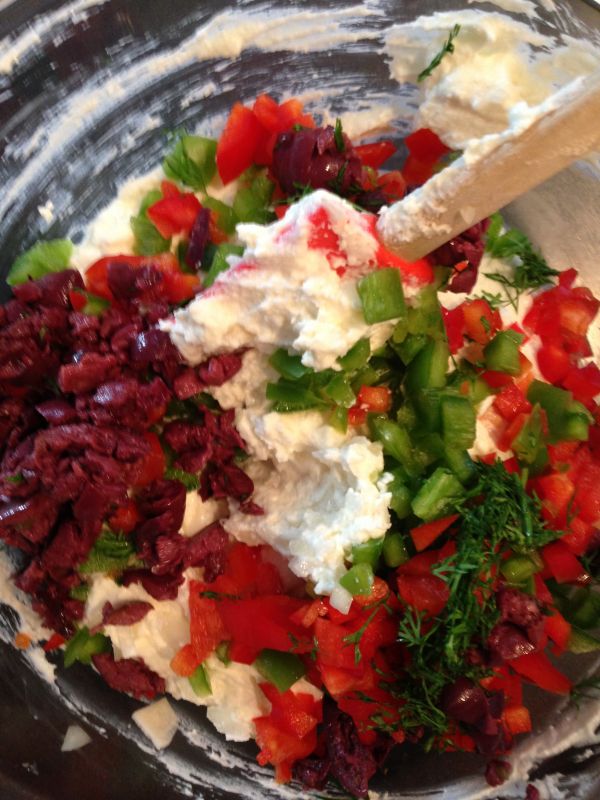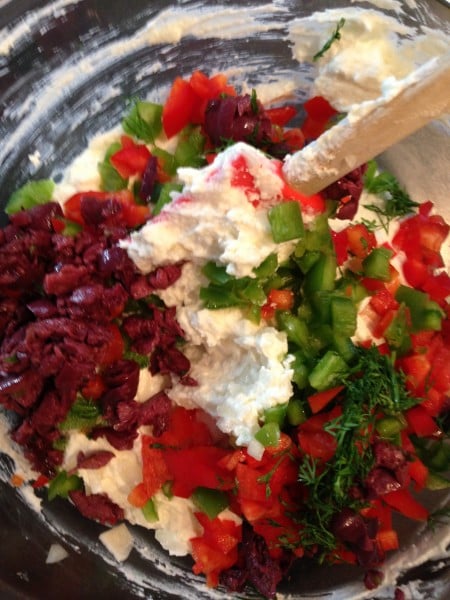 © 2012 – 2017, Mary Papoulias-Platis. All rights reserved.