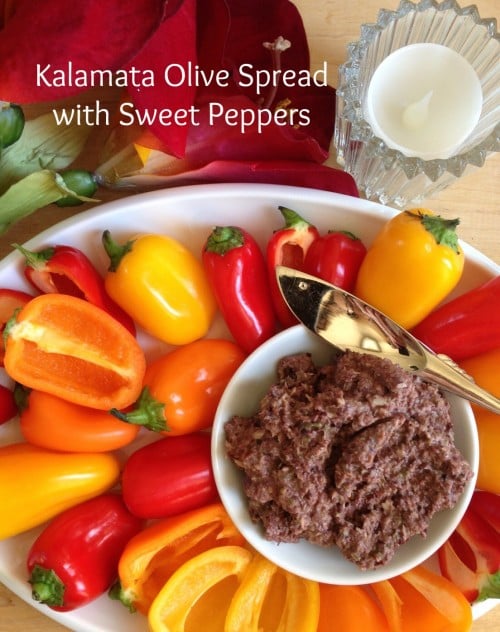 Do you ever have salty cravings but want something healthy, well this Kalamata Olive Spread will do the trick. With cheeseboards being so popular, add this recipe to your creative presentation. How can you go wrong with a spread using Kalamata olives? Their saltiness combined with the crunch factor in the sweet mini peppers making it the perfect plate. Theses peppers are mild, not hot and perfect for dipping. With their scoop-like shape they make a great alternative to chips.  You can stuff these little veggies with this dip or simply serve on a pretty platter. Who can resist eating from this rainbow?
A little about the health benefits of sweet peppers!
 According to their color, the red varieties supplying more potassium, vitamin C and folate than yellow, orange or green.
Red peppers are especially rich in these carotenoids, as well as other protective nutrients such as vitamin C.
They also supply amounts of polyphenols, protective plant compounds include lutein, quercetin and capsanthin.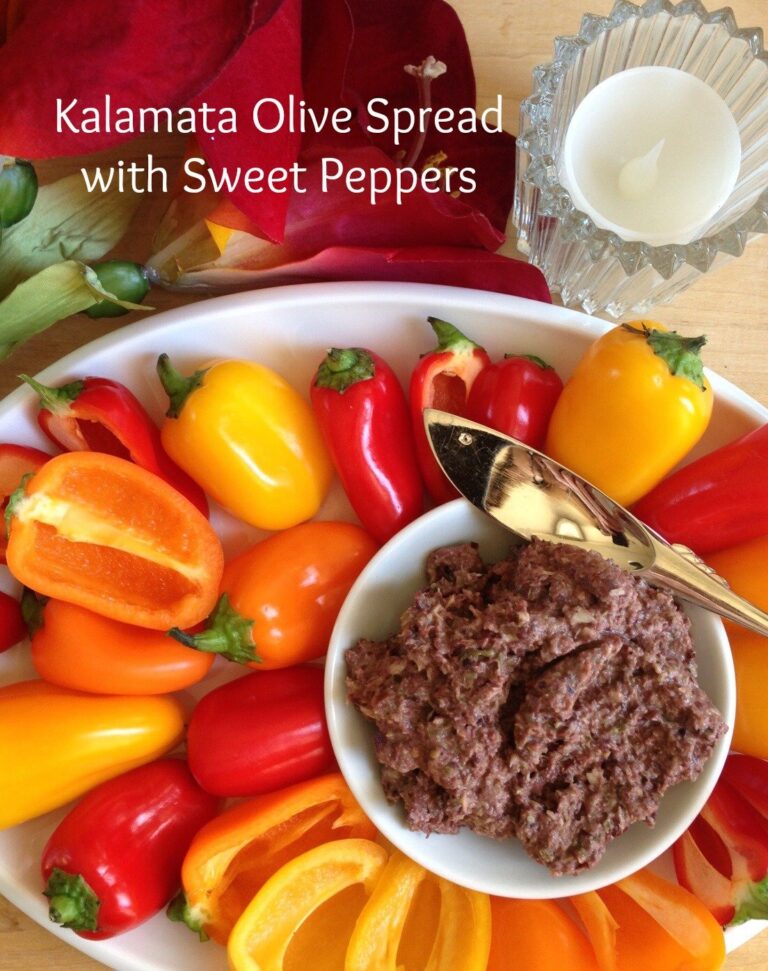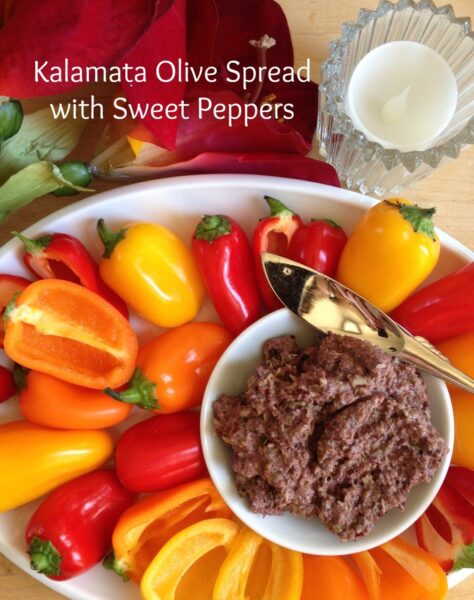 Find these peppers packaged in the vegetable section or near the pre-packaged salads. Don't pass them up, try them once here and you won't be disappointed. Kalamata olives are available today in most stores and big box locations. If you can't find them, check an ethnic store nearby.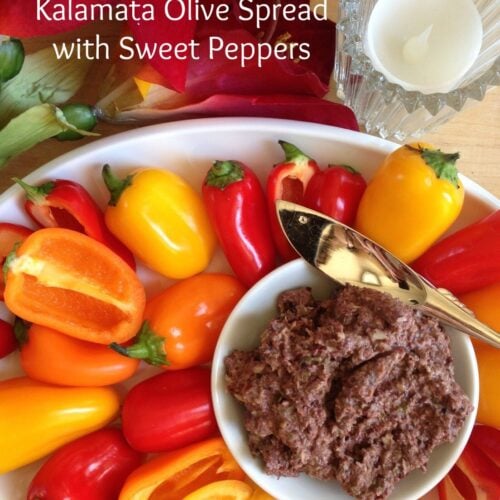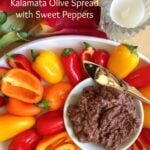 Kalamata Olive Spread with Mini Sweet Peppers
What makes a great dip? These two do - Kalamata Olives and Mini Peppers. This dish cannot get more festive than this. Enjoy the ease of this dish and perfect for the next party or BBQ!
Ingredients
1

cup

Greek Kalamata olives, pitted

3

tablespoons

drained capers

2

tablespoons

fresh lemon juice

1

garlic clove

1

teaspoon

Dijon mustard

2

tablespoons

Madeira or wine

1/2

teaspoon

black pepper

1

tablespoons

anchovies

1

package sweet peppers
Instructions
Place all the ingredients in a food processor or blender, and puree until smooth.

Place in a small bowl and set aside.

Cut peppers in half and remove seeds. Place on a large serving plate along with the spread.

Spread can be made ahead and refrigerated.
Recipe Notes
Anchovies can be substituted with 2 tablespoons kippersnacks or tuna.
Here are a few of my Kalamata dishes for you to enjoy!
Heirloom Tomato Salad with Potatoes and Olives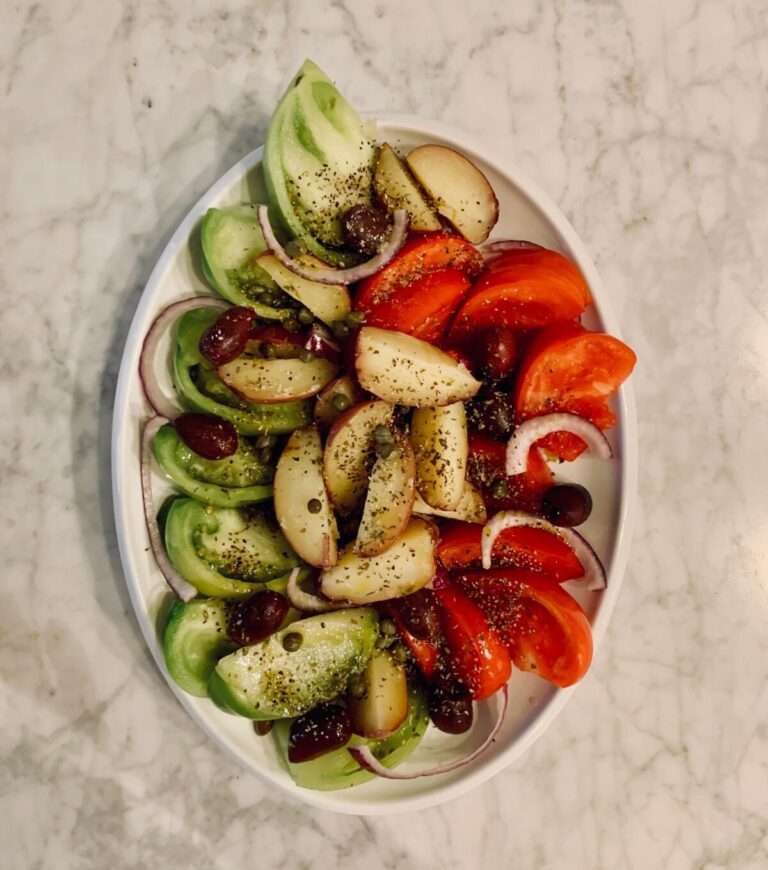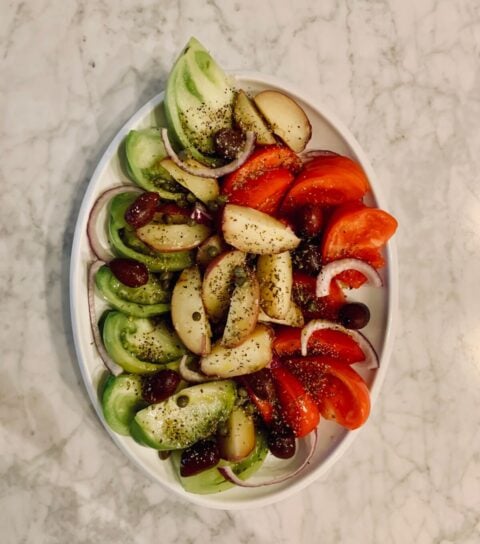 Three Feta Dips with Olives, Artichokes, and Jalapenos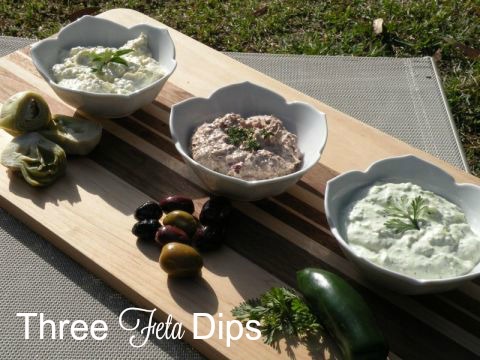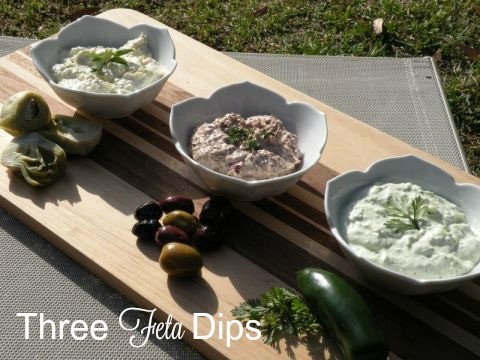 Greek Roasted Feta with Kalamata Olives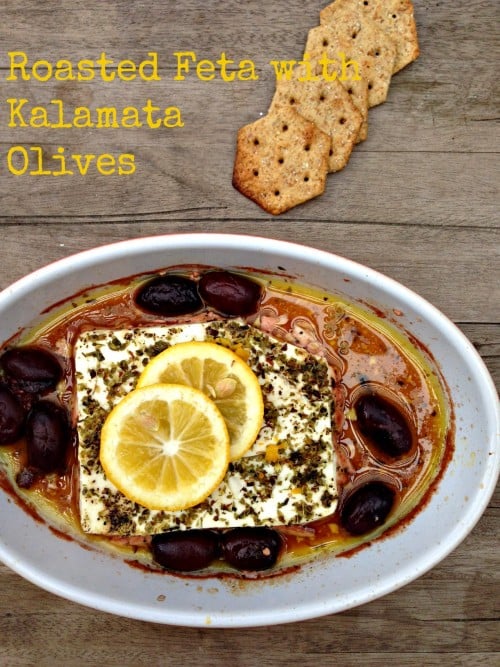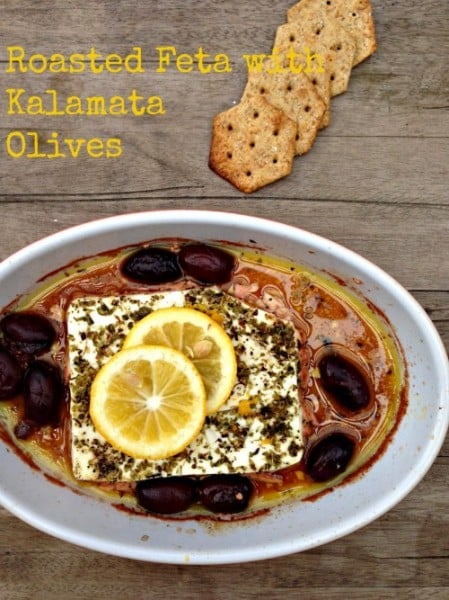 Have fun exploring with Kalamata Olives !
Mary 
© 2014 – 2022, Mary Papoulias-Platis. All rights reserved.