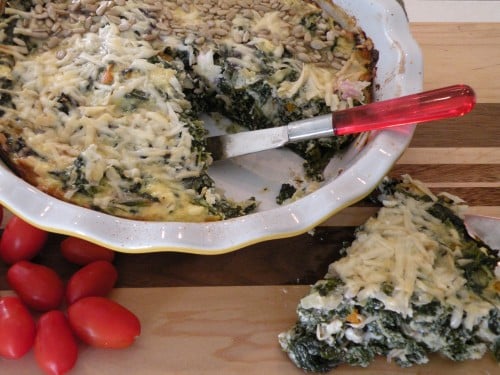 It's was time to pull out all my winter vegetables, so I can prepare my spring garden beds with new mulch, fresh garden soil, and nutrients. Greens overflowed my wooden salad bowl after the day of picking, and now I had to prepare them for dinner with something new and fast! I decided a semi-spanakopita done in a pie plate that I can throw in the oven and serve along with a soup or salad. With this recipe I used whatever I pulled from my garden that day. Feel free to mix any combination of greens and cheese of your choice for your dish. The leftovers are great for lunch the next day.

Mary's Crustless Greens Pie
Substitute your favorite greens and add a bowl of soup and you have a quick healthful meal to enjoy all year round.
Author:
Mary Papoulias-Platis
Recipe type:
Main or Side
Ingredients
1½ pounds mustard greens, or Swiss chard
½ pound spinach
¾ pound arugula, or dandelion greens
3 tablespoon butter
1 tablespoon olive oil
1 onion, chopped
2 garlic cloves, chopped
½ yellow red pepper, chopped
½ cup parsley, chopped
¼ cup basil, chopped
½ teaspoon salt
¼ teaspoon pepper
4 large eggs
½ cup feta, crumbled
¼ cup freshly grated Parmesan cheese
Instructions
Butter one 9 inch pie plate.
Trim the stems from the greens and chop the leaves.
Preheat the oven to 375 degrees.
Heat 1 tablespoon of butter with the oil and saute the onions for one minute. Add the garlic.
Add the pepper, greens, parsley, basil, salt, and pepper.
Cook until tender, stirring frequently about 15 minutes.
Cook until all the liquid has evaporated.
Place in bowl and let cool slightly. Remove any juice from the bottom of the bowl.
Beat the eggs with a fork and add to greens. Add the crumbled feta.
Place in the buttered pie plate and sprinkle with cheese.
Bake for 25 minutes. Let stand for 20 minutes before serving.
Notes
If you have only an 8-inch pie plate, use less filling.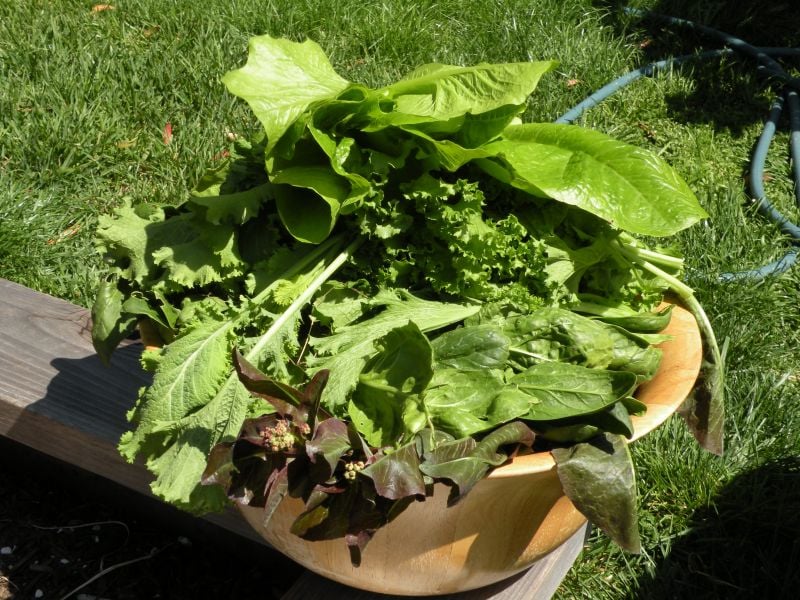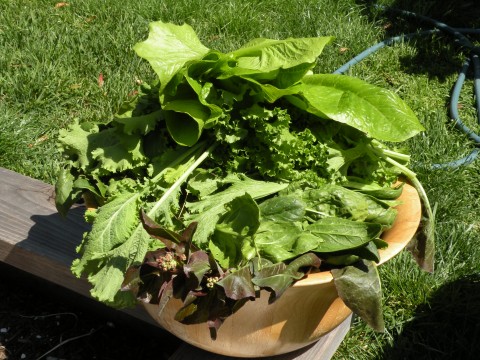 © 2011 – 2019, Mary Papoulias-Platis. All rights reserved.