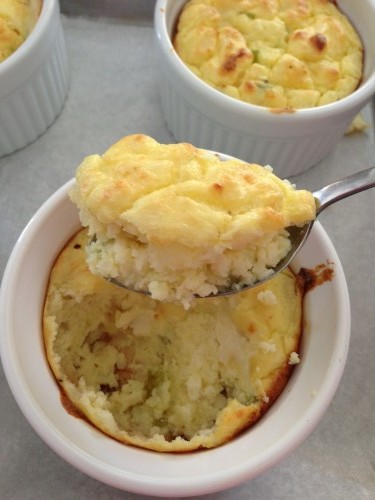 When was the last time you ate a Potato and Feta Cheese Souffle or any souffle at that! Potatoes and feta for a Feta Friday dish,  heaven…  If you're true to the Greek traditions, Greek Lemon potatoes are the best, most ordered, and best remembered than any other! Ask anyone. Then to use feta with it- this takes it over the top. Yes I know souffles are mostly French in origin, this is my Greek twist I love adding to my recipes. Simple pantry ingredients makes this souffle easy to prepare, and a challenge to most of us to make. This can also be made in a large souffle dish. This makes 6-8 individual servings.

Potato and Feta Cheese Souffle
This recipe is the perfect combination for a dish, if your after that Greek familiar taste, with the additional of salty Feta cheese.
Author:
Mary Papoulias-Platis
Ingredients
4 medium potatoes
4 eggs, seperated
¾ cup half-and-half
5 tablespoons butter
1 small onion, minced
1 cerely rib,minced
1 cup finely crumbled feta cheese
salt and pepper
Instructions
Place the potatoes in a large saucepan with enough salted water to cover and boil for about 30 minutes or until tender.
Drain and cool enough to handle, and peel the potatoes.
Place in a large bowl or mixer bowl and mash with fork.
Add the egg yolks and half-and-half and beat with a mixer until smooth.
Preheat oven to 400 degrees.
Heat 3 tablespoons of butter in a skillet and add onion and celery and saute for 3 minutes.
Stir in the potato mixture,cheese and salt and pepper to taste.
Grease the bottom and sides of a 7-inch souffle dish (or individual cups) with remaining butter.
In a mixer bowl beat egg whites with a pinch of salt until stiff.
Fold in ⅓ of the egg whites into the potato mixture, then fold in the remaining whites.
Pour into the prepared dish, place dish on a baking sheet, and bake for 40-45 minutes, or until golden brown.
 I prefer using the individual serving cups only because everyone has their own!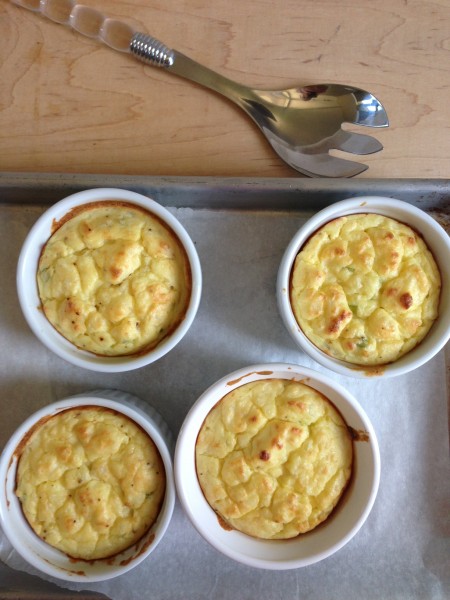 Please visit my many other "Feta Friday" dishes.
© 2013, Mary Papoulias-Platis. All rights reserved.