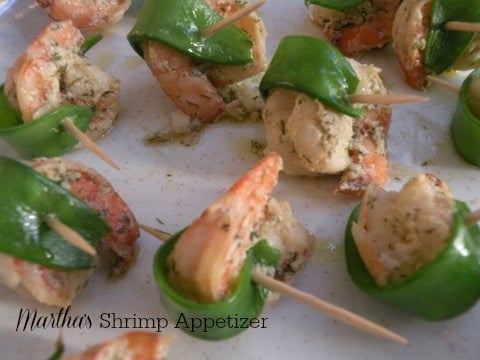 Shrimp is always on my appetizer list during the busy holiday season, along with the Hot Fajita Wings with Guacamole and the Spinach Stufffed Mushrooms.  These three simple appetizers compliment each other and will satisfy your guests while the  dinner is prepared or as an additional to your cocktail party. Finding appetizers that can be prepared ahead of time is the key to a successful party. The marinade is the perfect balance with the crisp green snow peas. You may substitute the snow peas if you are unable to find them with a crisp slice of  cabbage, red pepper,or jicama. (no onion)  Prepare the shrimp and marinate the night before and place in a zip lock bag, then refrigerate. Attach the snow pea to the shrimp with a toothpick at the last moment before serving . Can be served cold or at room temperature.
Snap Peas can be found at your local farmers market, or your local health food store. If not, grab a packet of seeds and pop them in your garden. They happen to be my favorite winter vegetable to grow.
Snap peas are an excellent source of vitamin K, which plays an important role in keeping your skeletal system strong.
Snap peas are also full of potassium, which is an important mineral for maintaining a healthy heartbeat.
Snap peas are also a great help for your immune system. They are rich in beta-carotene and vitamin A, which are important for the growth of immune cells.
For more health benefits visit, WebMD.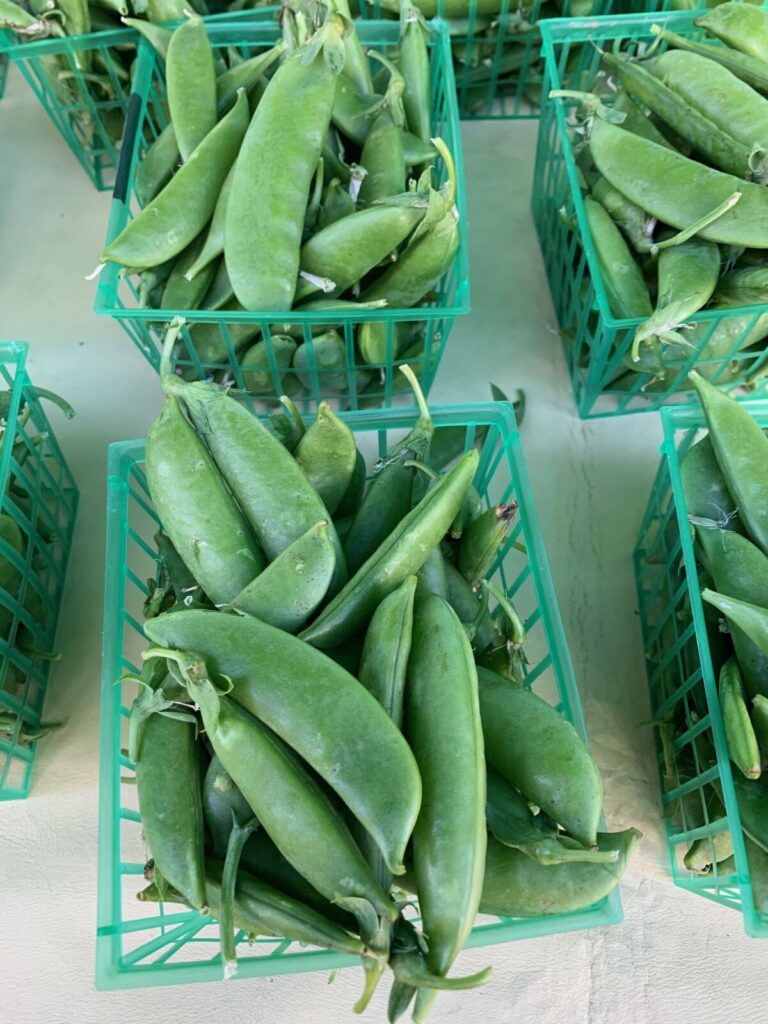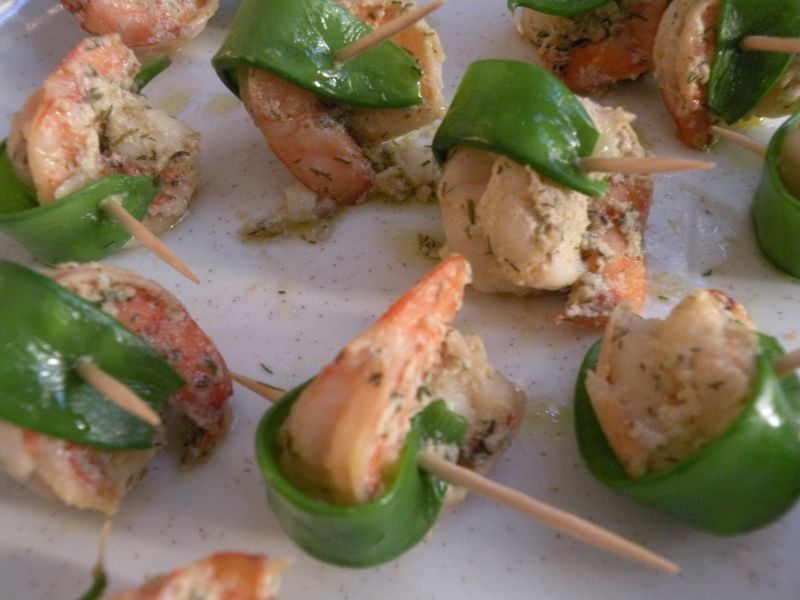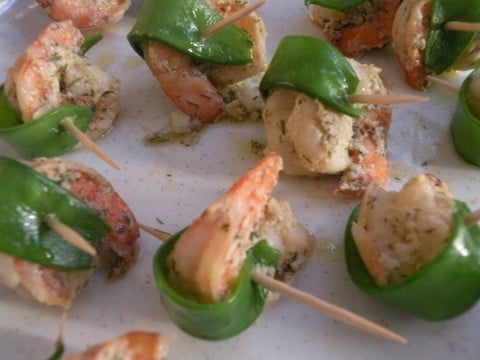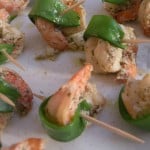 Shrimp with Mustard Vinaigrette
Makes 15-20 servings
Ingredients
1

bay leaf

1

pound

large shrimp, peeled and deveined

15-20

snow peas

Vinaigrette

1/2

cup

oil

3

tablespoons

red wine or white wine vinegar

3

tablespoons

Dijon mustard

1

tablespoons

chopped shallots

1

teaspoon

finely minced ginger

1

clove

garlic, finely minced

1

tablespoon

chopped dill

pinch

sugar

salt and pepper to taste
Instructions
Add bay leaf to a large pot of water and bring to a boil. Add the shrimp and cook, stirring constantly, until just done. (2-3 minutes).

Drain shrimp and place in a bowl or large plastic bag.

Mix vinaigrette ingredients in a covered jar. Shake well and pour over shrimp. Refrigerate overnight.

String the peas and blanch in boiling water for 30 seconds. Drain and cool.

Wrap a pea around each shrimp and secure with a toothpick. Serve cold or at room temperature over ice.

The vinaigrette can be made a couple of days ahead. The shrimp can be cooked the day before and marinated. Assemble the day of the event and refrigerate until ready to serve.

Assemble the day of the event.
Enjoy more Appetizer recipes on my blog.
Greek Roasted Eggplant Dip "Melitzanosalata"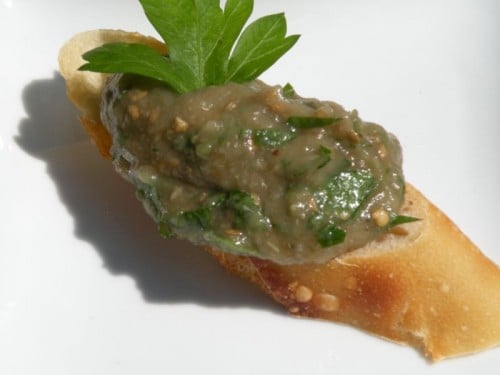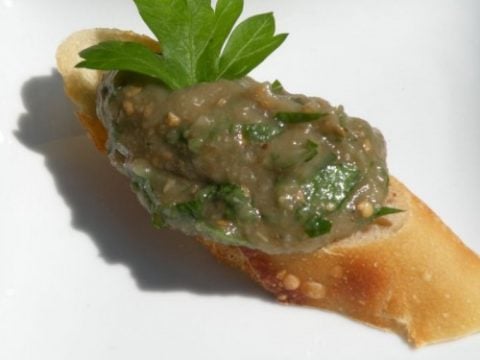 Stuffed Mushrooms with Spinach and Thyme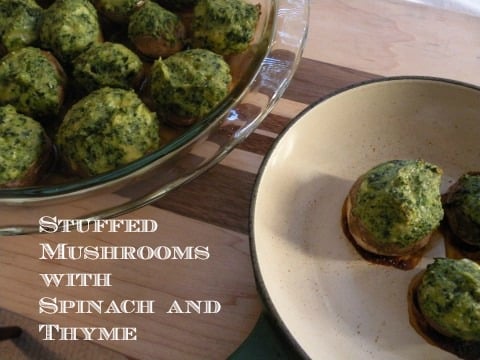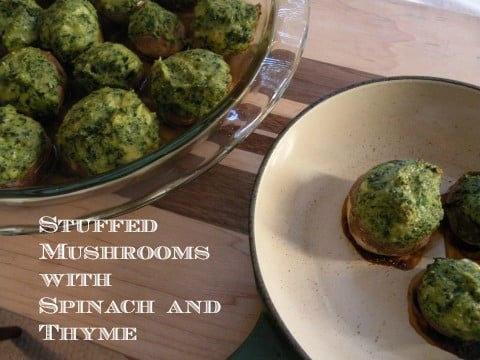 Hot Fajita Chicken Wings with Guacamole
Enjoy cooking,
Mary 
This recipe came from the first Martha Stewart Entertaining Book.
© 2011 – 2023, Mary Papoulias-Platis. All rights reserved.