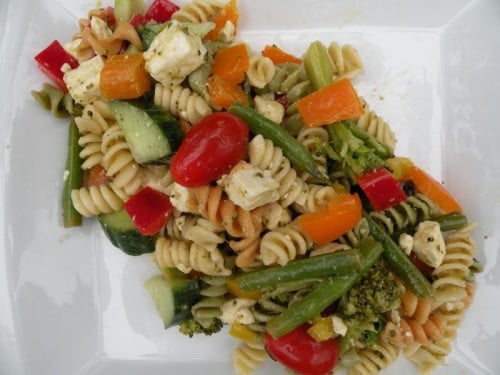 This pasta salad is a family favorite and can be changed to your family's favorite vegetable choice. Most popular in the summertime for it's easy vinaigrette dressing, this can be brought to a BBQ without any worries about spoiling and set out for all to enjoy.

Summer Vegetable Pasta Salad
This summer pasta salad can be changed with the season's available garden vegetables.. With this vinaigrette dressing it can be taken to any outdoor party to be enjoyed.
Author:
Mary Papoulias-Platis
Ingredients
1 12oz. box-tri-colored pasta or pasta of your choice
1 red, yellow, and orange pepper-coarsely chopped
2 heads of broccoli, separated and blanched
1 cucumber, peeled and chopped
2 cloves garlic, minced
1 bunch of green onions, chopped
1 box of cherry tomatoes
½ pound green beans, cut into 2" pieces, blanched
½ pound Greek Feta, cubed
1 cup of Greek Kalamata olives-pitted (optional)
Dressing
¾ cup olive oil
¾ cup red wine vinegar
2 cloves garlic, minced
¼ teaspoon salt
¼ teaspoon pepper
2 teaspoon dijon mustard
Pour all ingredients in bowl.
Blend with whisk or in blender.
Use dressing to your taste.
Note: This makes enough dressing for the pasta and the remaining sauce to be passed around.
Instructions
Boil pasta in a large pot according to package directions. Drain and place in a large serving bowl. Add 1-2 tablespoons of olive oil to pasta to keep pasta from sticking. Cool for 15 minutes.
Bring a small pot of water to a boil. Add green beans and blanch for 2 minutes. Remove and set aside to cool. Do not throw out water. Return the water to boil and add broccoli, blanch for 2 minutes. Cool. Add all the ingredients to the pasta and gently mix all together. Pour dressing over pasta. Mix together.
Notes
Additional ingredients can be added such as grated Parmesan cheese,toasted pine nuts, parsley,basil, mint, and red onion

This pasta dish can be doubled for a large group. This is ideal for a BBQ, since this dish can be served at room temperature.
© 2010 – 2014, Mary Papoulias-Platis. All rights reserved.