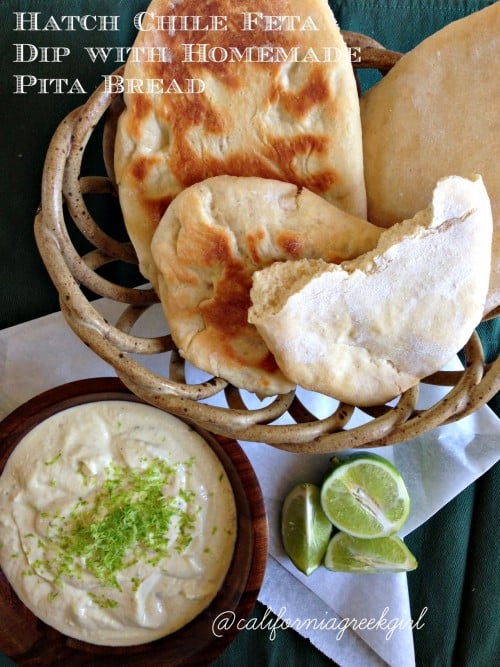 Let me introduce my first Greek -Mexican twist during Hatch Chile Month! What does a Greek Girl do but add feta to everything she makes! Adding chiles to a feta dip gives it a new dimension and such a spicy kick. I won't make a feta dip again and not use some kind of green chile.  But first, you must prepare the chiles by rotating them to remove the flesh.
Take a look at Cooking Techniques on "How to Roast a Hatch Chile" to learn how. Along with giving this dish a wow-factor, it encouraged me to try and make something to go along with it from the Greek cuisine. Making your own pita allows you to add any spices or herbs you would like to the dough before baking it off.  Because of the spiciness of the feta, I chose to go plain this time.
For Hatch chiles in your area  go to Melissa's Produce and check out where you might find these delicious chiles.  I used the mild chiles for this recipe, but they do come in hotter varieties. As I pulled out the bread from the oven, not only did it take over my house with that fresh bread smell, to my surprise I loved the soft billowy texture of the bread. Perfect for the spicy feta dip, that yin-yang thing! Make sure you prepare the feta dip first, so that you can serve the pita hot, straight out of the oven!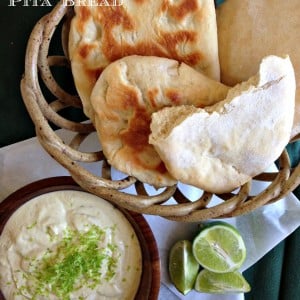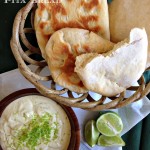 Hatch Chile Feta Dip with Pita Bread
It's Hatch Chili month, so I'm double-twisting my recipe with two of my favorite cuisines. With my new hatch chile feta dip and freshly baked pita bread. I can now scream out Olay and Opa!
Ingredients
Pita Bread
7

cups

flour bread flour

1

envelope active dry yeast, 1 tablespoon

2

teaspoons

salt

2

tablespoons

extra virgin olive oil

1/4-1/3

cup

water
Hatch Chile Feta Dip
1

cup

crumbled feta

1/2

cup

Greek plain yogurt

1/8

cup

extra-virgin olive oil

3-4

mild hatch chiles, roasted peeled and seeded

Zest of 1 fresh lime

Juice of 1 fresh lime

Pinch

of salt and pepper
Instructions
Pita Instructions
In a large bowl, add sifted flour. Stir in the yeast and salt.

Add the olive oil and mix in enough water to make a soft dough.

Turn dough onto a floured surface and knead for 10 minutes, or until smooth.

Cut into 12 equal pieces. Roll each piece into a ball, then roll into a 6-inch oval shape.

Place on a floured tray, cover with a towel and place in a warm place for 1 hour to rise.

Preheat oven to 475 degrees. Oil the baking tray and place in the oven to heat.

Place three pitas on the tray and sprinkle with water.

Bake 5 minutes or until puffed and lightly brown. Remove pita and wrap in a cloth.

Continue baking the remaining pitas.
Dip
Place everything in the blender or food processor, except the lime zest.

Place the feta mixture in a bowl and place the lime zest on top.
Learn how to roast chilies here!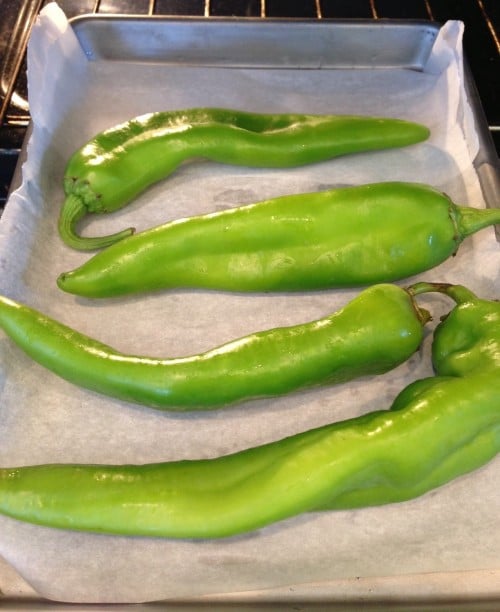 To learn how to roast chiles here!
Try my other dips for great appetizers!
Greek Roasted Eggplant Dip "Melitzanosalata"
Best Root Vegetables  Radish Yogurt Dip
Phyllo Green Rolls with Meyer Lemon and Balsamic-Mustard Dipping Sauces
Appetizers are a Must!
Mary 
© 2013 – 2022, Mary Papoulias-Platis. All rights reserved.