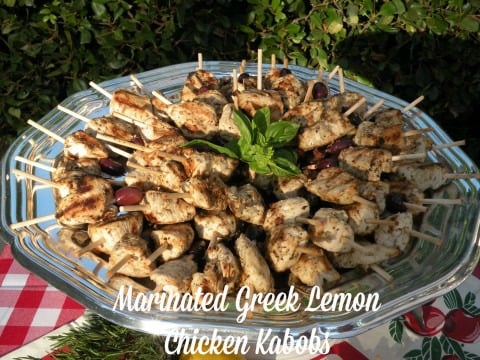 This recipe,  Marinated Greek Lemon Chicken Ka-Bobs is my go-to recipe when I cater or have a dinner party. The chicken is cut into small bite-size pieces and skewered for easy handling. These are so popular plan on serving at least two per person when entertaining. I do like to use olive oil for my marinade. Depending on the olive oil you choose, try and select a strong flavored extra virgin olive oil to enchance your chicken. Go to your nearest store or farmer's market and taste several oils and choose the one you like.
If you would like more information on cooking with olive oil, you may want to purchase my cookbook, Cooking Techniques with Olive Oil:, where I teach you how to braise, poach, marinate and preserve with olive oil. It's an award winning cookbook, and one you will keep on your shelf.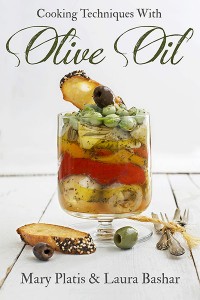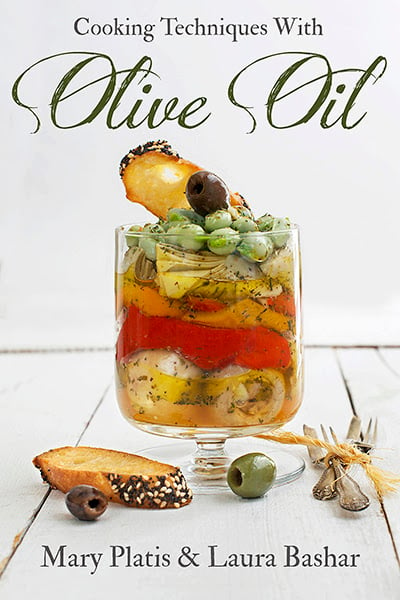 A tip is to cut the chicken into cubes the size you need, marinate then BBQ. Add to the clean skewers once the meat has cooled off a bit.  This will keep your skewers from burning. A simple party appetizer, once cooked, they can be refrigerated and served at room temperature. I use the short skewers and place two pieces per skewer. Here I added olives, but you can substitute cherry tomatoes, cucumber, or feta cheese squares. Add these after you have prepared the chicken. Take this with you to a party, it's easy and a favorite dish of many!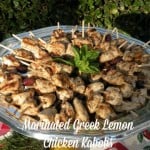 Marinated Greek Lemon Chicken Ka-Bobs
This is foolproof recipe for your family or for party size. Just double or triple according to your crowd. Simple and delicious serve warm or cold.
Ingredients
4

skinless large chicken breasts
Marinade
1

cup

olive oil

1/2

cup

freshly squeezed lemon juice

1

tablespoon

dried oregano

1

teaspoon

salt

1/4

teaspoon

pepper

1

lemon
Presentation
Small wooden skewers

Your choice of: small tomatoes, olives, cucumbers chunks, feta squares

Lemons

olives, small tomatoes, cucumber
Instructions
Cut the chicken breast in half lengthwise, then in thirds, so that you have six pieces per breast.
Marinade
In a large bowl add the lemon juice and spices,salt, and pepper. Whisk in the olive oil.

Add the chicken pieces to the bowl.

Cover and refrigerate for at least a couple of hours or overnight.

BBQ the chicken pieces only.

Let cool then skewer. I prefer to skewer afterwards to keep the skewers from burning.

Add the olives or condiment of your choice.

Squeeze the fresh lemon over the warm chicken and serve.
Recipe Notes
Note: This recipe can be made the day before, and served at room temperature.
Other recipes on chicken:
Spatchcocked Greek Lemon Chicken with Potatoes
Greek Grilled Chicken Caesar Salad
Hot Fajita Chicken Wings with Guacamole
Let the Party Begin!
Mary
© 2010 – 2023, Mary Papoulias-Platis. All rights reserved.