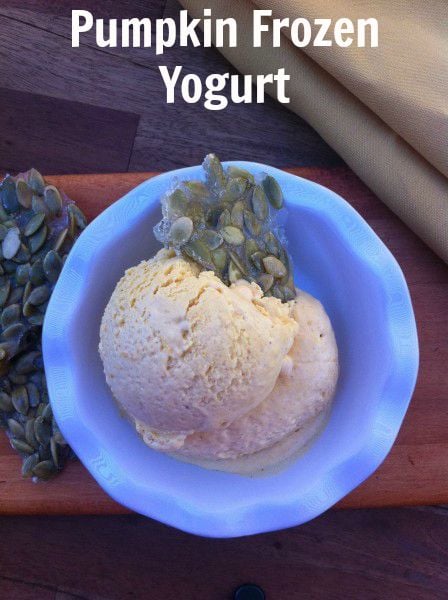 Before every Thanksgiving Day I visit the local ice cream shop to pick up their seasonal special ice cream, especially anything pumpkin. But lately, when visiting the shop I have enjoyed the frozen yogurt varieties they have offered more than the ice cream. And while planning my Holiday menu these last few days, I have decided to come up with my own version of Pumpkin Frozen Yogurt and serve it with a pumpkin seed brittle. In late October, I try and pick up the small sugar pumpkins for baking pies and breads, because I prefer fresh pumpkin puree.  My goal is to get up early morning to roast two pumpkins a day.  It's not that difficult at all. Just remember not to skip the brittle, it adds a nice crunch.  If in a crunch, you can use organic canned pumpkin. This is the canned variety I like to use. Find it here from Farmer's Market.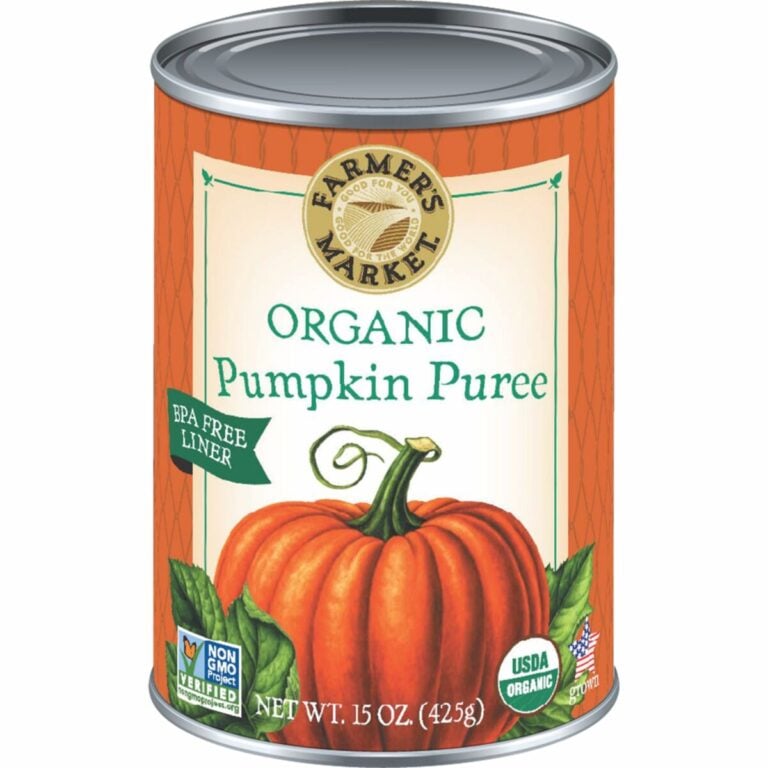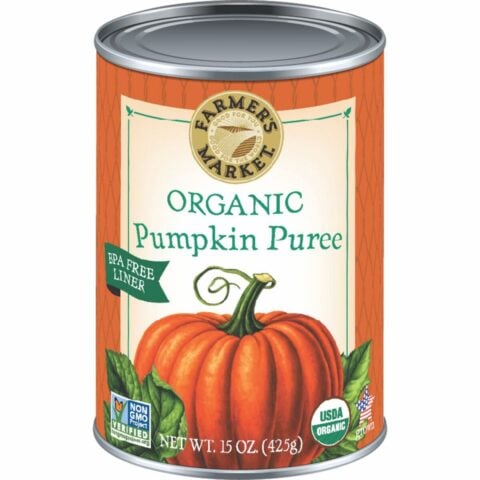 Pumpkin is also a high nutrient food. To find more information visit: Web MD.
Pumpkin is recommended as part of a heart healthy diet that may help lower your risk of heart disease. It offers a long list of nutrients that protect and support the heart, such as vitamins A, B1, B6, and C, copper, fiber, folate, and manganese.
Pumpkin provides calcium, potassium, and magnesium, which can help keep your heartbeat regular and your blood pressure low.
The fiber in pumpkin can also play a part in lowering blood pressure as well as cholesterol. In addition, the fiber in pumpkin makes you feel full promoting weight loss.
Pumpkin Frozen Yogurt with Seed Brittle
A nice ending to any meal this frozen Greek yogurt has a bit of a pumpkin pie taste, with it's autumn spices. Switch this out for pie and enjoy it's Fall warm flavors.
Ingredients
Yogurt Filling
1

cup

heavy whipping cream

1

cup

whole milk

3

large egg yolks

3/4

cup

sugar divided, 1/2 cup and 1/4 cup

1

cup

whole-milk Greek yogurt, I used Fage

1 1/2

cup

fresh pumpkin puree or organic canned pumpkin

1/2

teaspoon

vanilla

1/2

teaspoon

nutmeg

1/2

cup

cinnamon

Pinch

of salt
Pumpkin Seed Brittle
1

cup

sugar

1 1/2

cups

water

1/8

teaspoon

sea salt

3/4

cup

raw green pumpkin seeds
Instructions
Pumpkin Yogurt
Combine 1 cup heavy cream, 1 cup whole milk, and 1/2 cup sugar in a heavy saucepan. Bring mixture to a simmer, stirring until sugar dissolves.

Whisk 3 large egg yolks and remaining 1/4 sugar in a large bowl until blended.

Gradually add hot cream to the egg mixture and whisk to blend.

Return mixture to the saucepan and stir over medium heat until custard thickens slightly and coats the back of the spoon, or instant thermometer reads 170 degrees.

Pour custard through a strainer and let cool slightly.

Whisk in yogurt, salt, vanilla, nutmeg and cinnamon. Refrigerate until custard is well chilled.

Transfer to an ice cream maker and process until thickened .

Place in a freezer container. Cover and freeze until ice cream is firm.
Pumpkin Seed Brittle
Place a large 24x12 inch sheet of parchment paper on a work surface or a sheet pan.

Bring sugar, water and salt to a boil in a 2-quart heavy saucepan. Refrigerate until custard is well chilled. Stir until sugar is dissolved.

Cook mixture without stirring, washing down any crystals from side of the pan with a pastry brush dipped in cold water.

Cook until mixture reaches soft ball stage of 238 degrees. Remove from heat.

Stir in seeds with a wooden spoon and continue stirring until syrup crystallizes.

Remove pan from heat and cook, stirring until sugar melts and turns a deep caramel color.

Carefully pour caramel onto parchment paper and carefully cover with another sheet. Roll out candy as thin as possible.

Remove paper and cool. Break into pieces.
Recipe Notes
Greek yogurt can be found at most your local food stores. If unavailable, place regular yogurt in a cheesecloth lined strainer, place in a large bowl, cover and chill overnight to drain.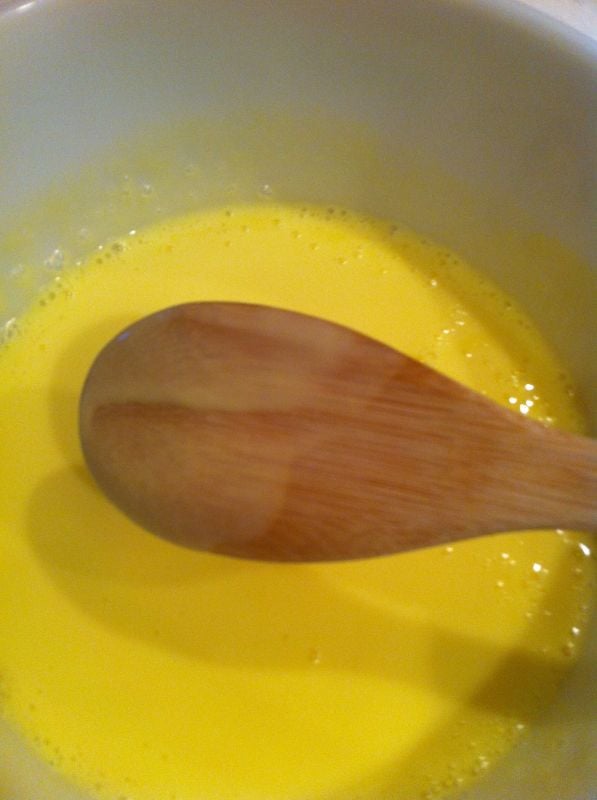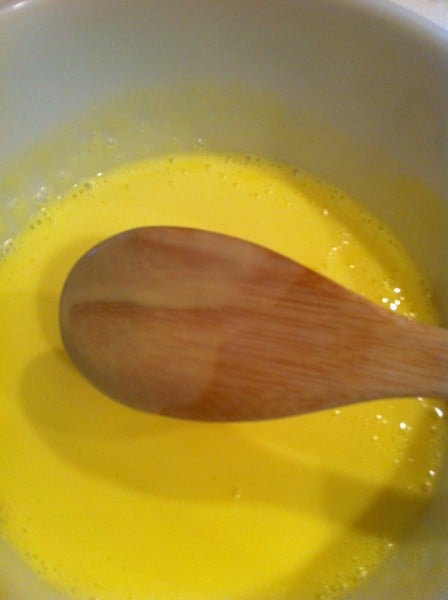 The trick is to make sure it coats the back of your spoon when you run your finger across the spoon. Then it's ready to pull off the heat.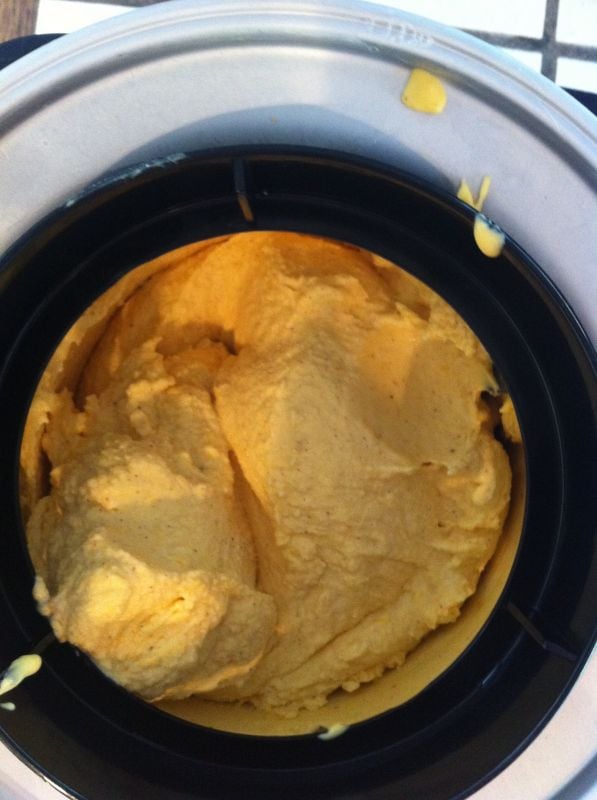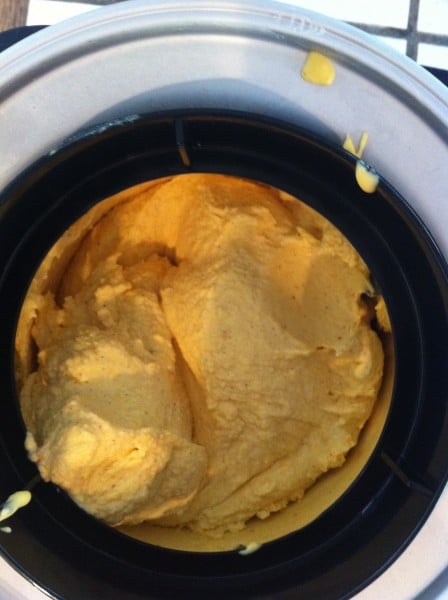 I  pulled the yogurt out of the ice cream maker when I sampled it and it was thick and creamy.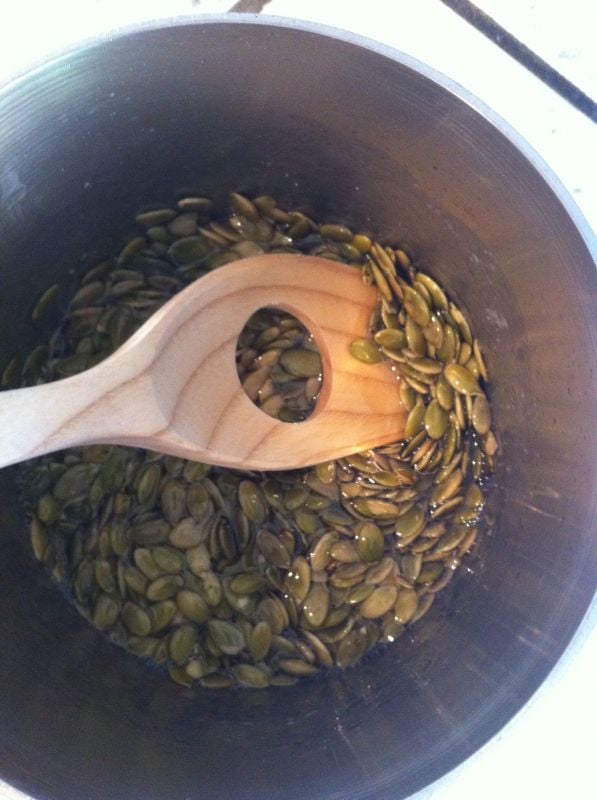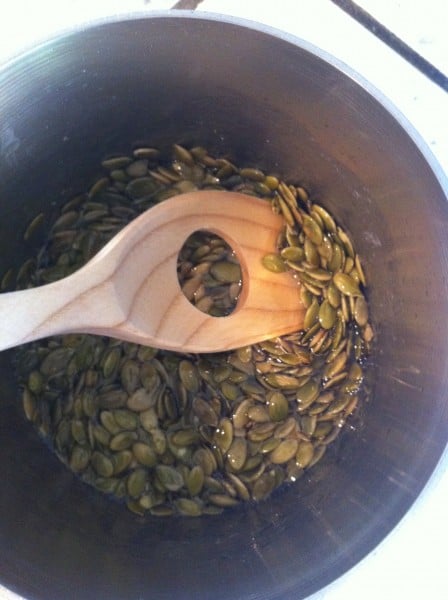 Stir the seeds until the sugar crystallizes.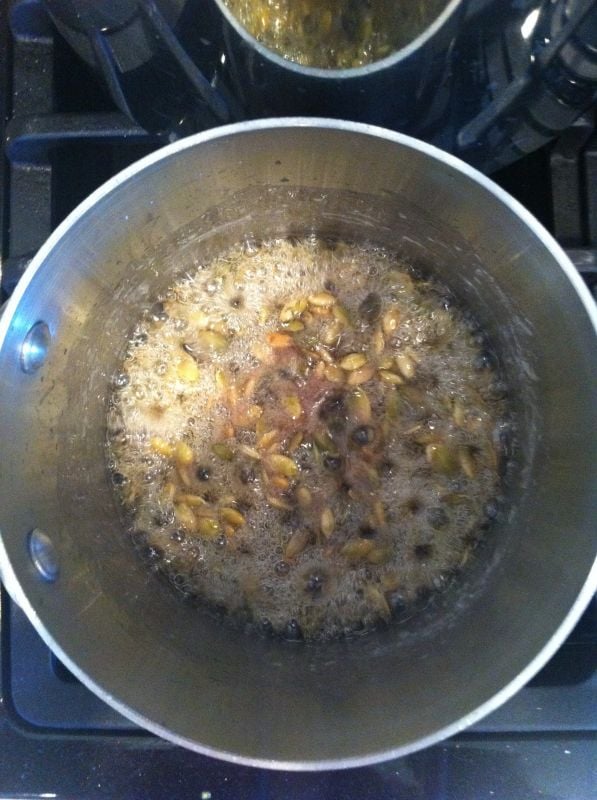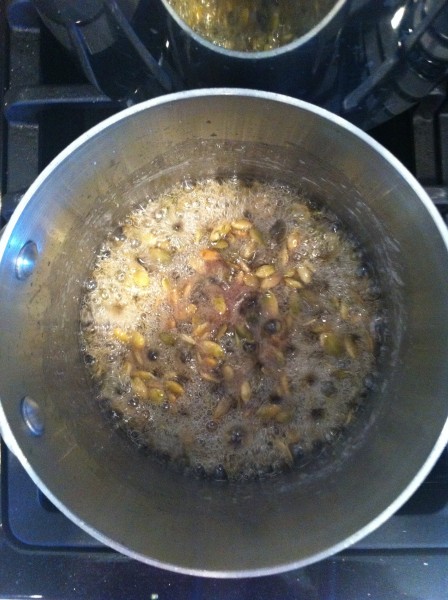 Return to the heat until a deep caramel color. This is just beginning to turn- watch it carefully and pull it off the minute it changes or you'll burn it.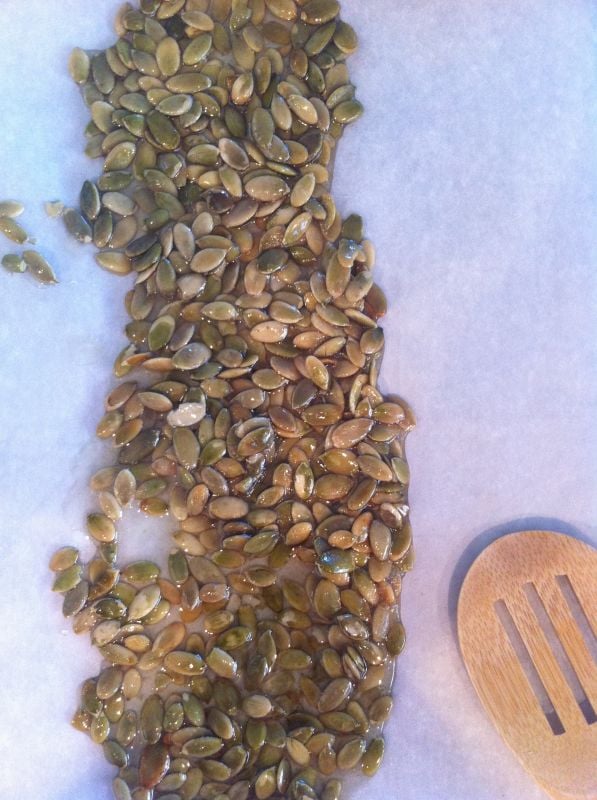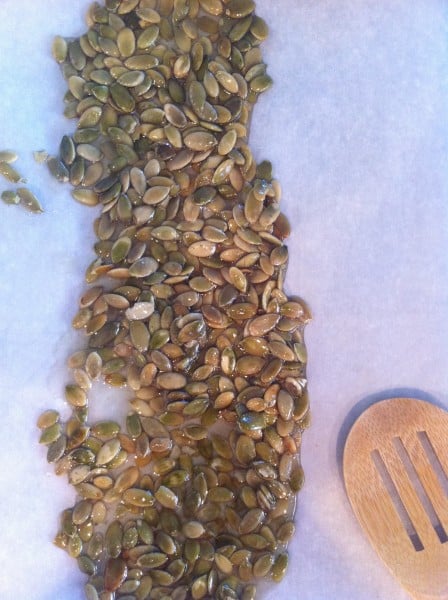 Let it rest and cool. Then break into pieces and store in an airtight container up to a week.
Ice Cream Happiness!
Mary
Many more pumpkin recipes can be found on my blog under the category "pumpkin".
Honeycrisp Apple Pumpkin Bread
Fresh Pumpkin Patties with Nutmeg Sauce
© 2012 – 2022, Mary Papoulias-Platis. All rights reserved.