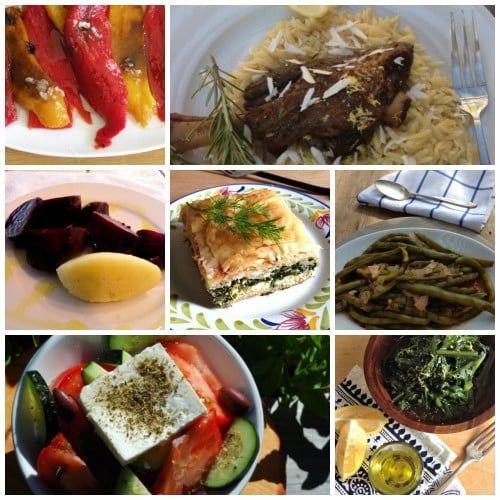 Are you craving a Greek Traditional Christmas Dinner for the holidays or for a special occasion? These are my basic Greek recipes,but many more can be explored on my blog. I selected a menu I have used many times and feel it's a good representation of our meals at home. Feel free to roast a Greek Chicken or substitute a Leg of Lamb. Or perhaps go vegetarian with all the sides I have here and on my blog.
I chose these because of the harmony of flavors and availability of produce in the winter. Enjoy my two favorite cookies for dessert., Melomakarona and Koulambiethes.
Have a wonderful Holiday Season and Merry Christmas and  Kala Xristouyena!
My Christmas Menu:
Appetizer: Roasted Peppers (many more recipes on blog)
Salad: Greek Salad with Feta
Main: Lamb Shank with Orzo
Sides: Green String Beans
Kali Orexi!
© 2013 – 2019, Mary Papoulias-Platis. All rights reserved.