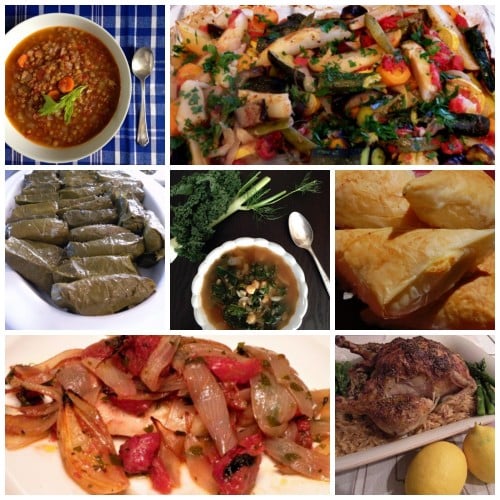 As I look back at my site's Top 8 Traditional Greek Recipes for 2013, I wasn't surprised at all with your favorites! These are memorable dishes you might have had growing up with in your home or at your Yiayia's house. My fondest memory of food was my husband's Yiayia and her delicious meatballs. Tiny, garlicky meatballs stuffed with mint – the perfect travel snack.
You see,  we had a very clever Yiayia (I have never met one that wasn't). When she found out we were in town, she made sure to call and ask us to swing by to see her. And as a small token she would pack up her meatballs in a used plastic container and have them ready for our Sunday drive back home. This was her sweet way to gather up the grandchildren and catch them on their way home. We also grew up knowing we never say "no" to yiayia's requests. In the Greek culture they are honored to the highest levels in the family home.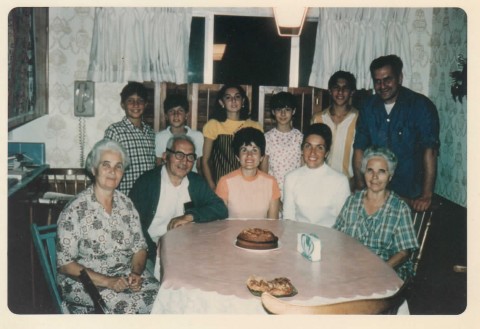 Today, I find myself doing the same thing for my kids. But instead of meatballs, I send them home with leftover's from that evening's dinner and goodies from the kitchen pantry! Usually they ask for any baked cookies, pastas, and my chocolate mousse. Thank you for your support and comments all year long, it was a terrific year. To start the New year on the right foot, come celebrate with me as we celebrate the Greek cuisine with Greek Dinners around the world.
Join us for a Greek Dinner Party Around the World
on January 15th!
For the month of January, I would like you to join me on January 15th , for a virtual Greek Dinner around the world. We will be promoting the healthful Greek Diet and gather around the table with friends and family. The dinner can be in your home, at a local restaurant or anywhere you choose. I will be entertaining guests in my home for an appetizer party from what my winter garden is producing and seasonal winter produce.  More information to come this week. Please mark your calendars!
My Top 8 Traditional Greek Recipes
Tiropetes – Phyllo- Cheese Triangles
Plaki –Easy Baked Fish with Tomatoes and Onions
Dolmathes – Quinoa/Rice  Stuffed Grape Leaves
Faki – Mom's Lentil Vegetable Soup
Soupa  Revithia – Chickpea Soup with Kale and Barley
Fasolakia – Greek String Beans
Plaki – Greek Garden Roasted Vegetables
Kota me Orzo – Roasted Greek Lemon Chicken with Potatoes
For more Traditional Greek Recipes take a look here.
© 2014, Mary Papoulias-Platis. All rights reserved.