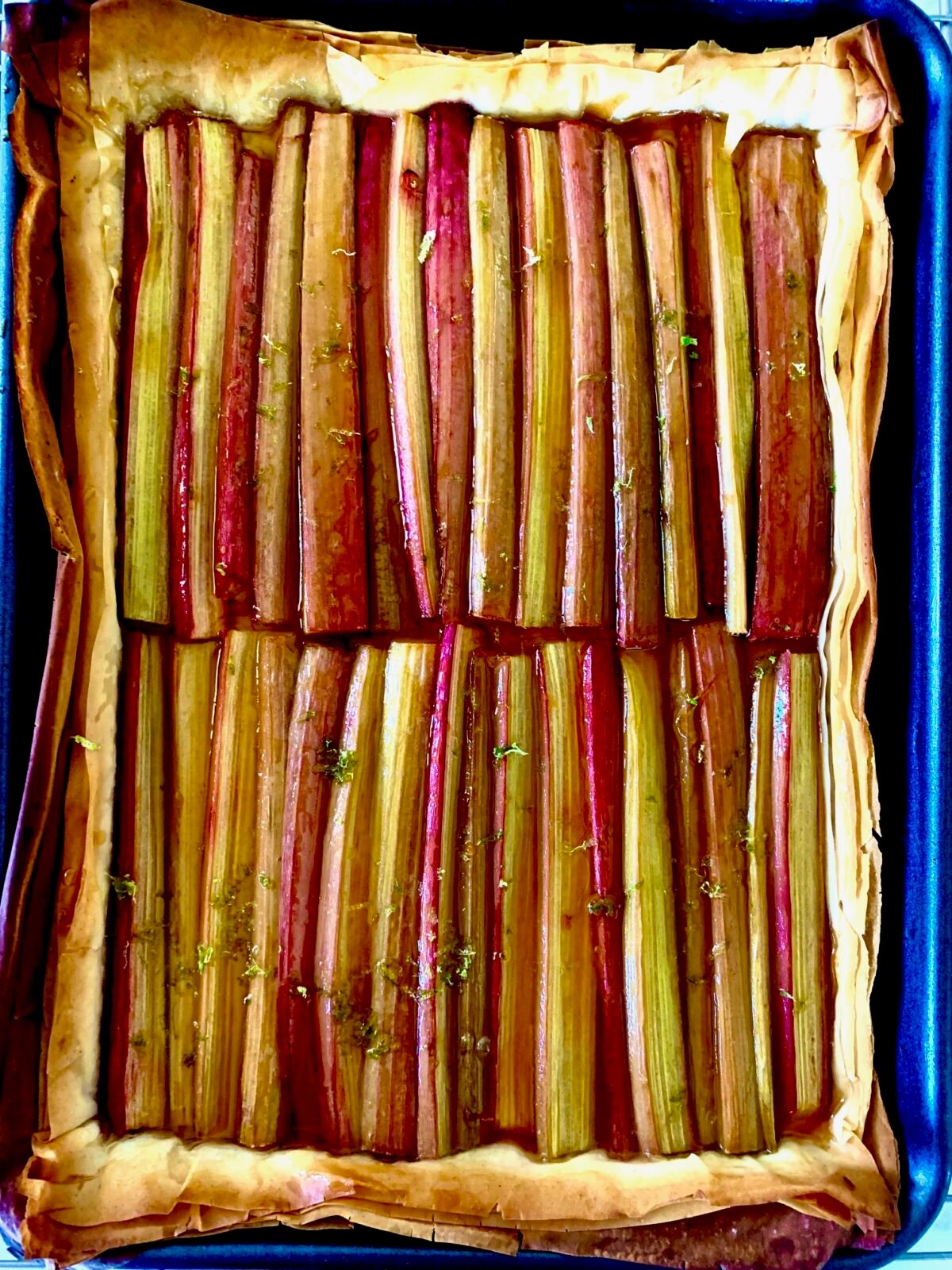 I'm a big tart fan when it comes to making a dessert for company or for my family. When I served this Rhubarb Tart at a recent gathering, they were amazed at it's beautiful presentation. It's a stunner! Some recognized the rhubarb right away, and stories began of grandmother's pies, growing up on a farm with rhubarb and family recipes being shared. After making this recipe, I will never pass up rhubarb again. My mind is spinning with ideas.
This was my first time using rhubarb, so I was a bit nervous. But to me, it felt similar to celery. I was sent several stalks from Melissa's Produce. I browsed many articles and cookbooks and I landed on the idea of a phyllo tart. I always have phyllo defrosted in my refrigerator, for recipes such as this one. Fillo factory has sponsored my cooking and blog for years. I consider their phyllo fool-proof. It's always sized and cut to use directly onto your sheet pans with ease. You can find their phyllo online or at your local supermarket.
I always like to mention the health benefits of the produce that I cook with in my recipes, and I'm constantly amazed at the amount of nutrients available in a stalk-like vegetable such as this one.
Rhubarb is a good source of Vitamin K1 which is important for blood clotting, bone health and possibly heart health.
The stalks are high in fiber, similar to oranges and celery.
Rhubarb is also a rich source of antioxidants. One study suggests that its total polyphenol content may be even higher than kale.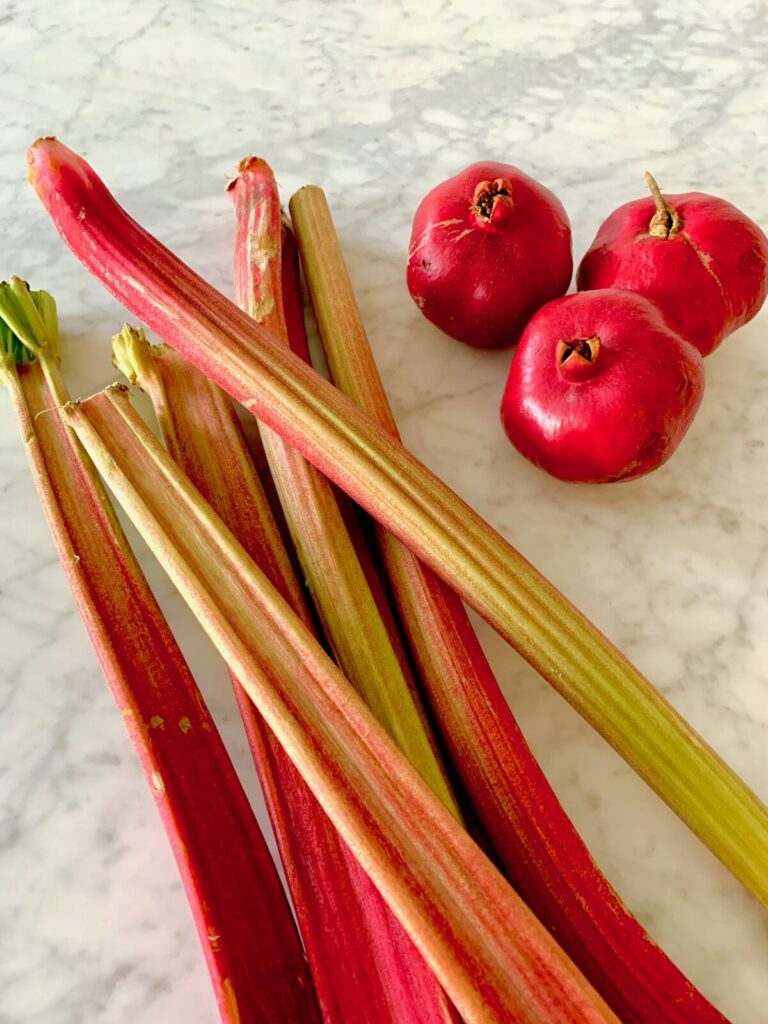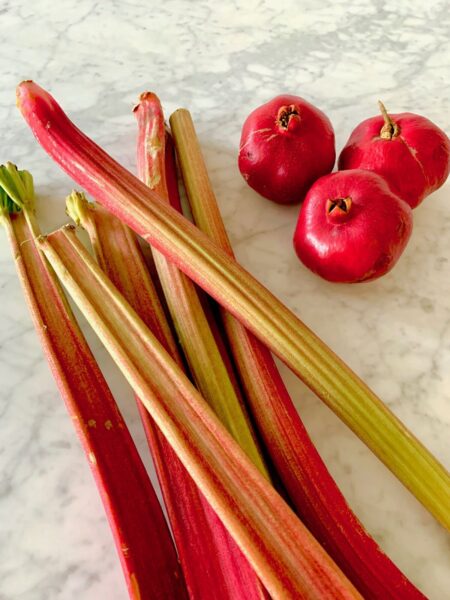 The stalks are quite thick, just trim the edges and cut stalks or in half. Cut into 1/8-inch slices.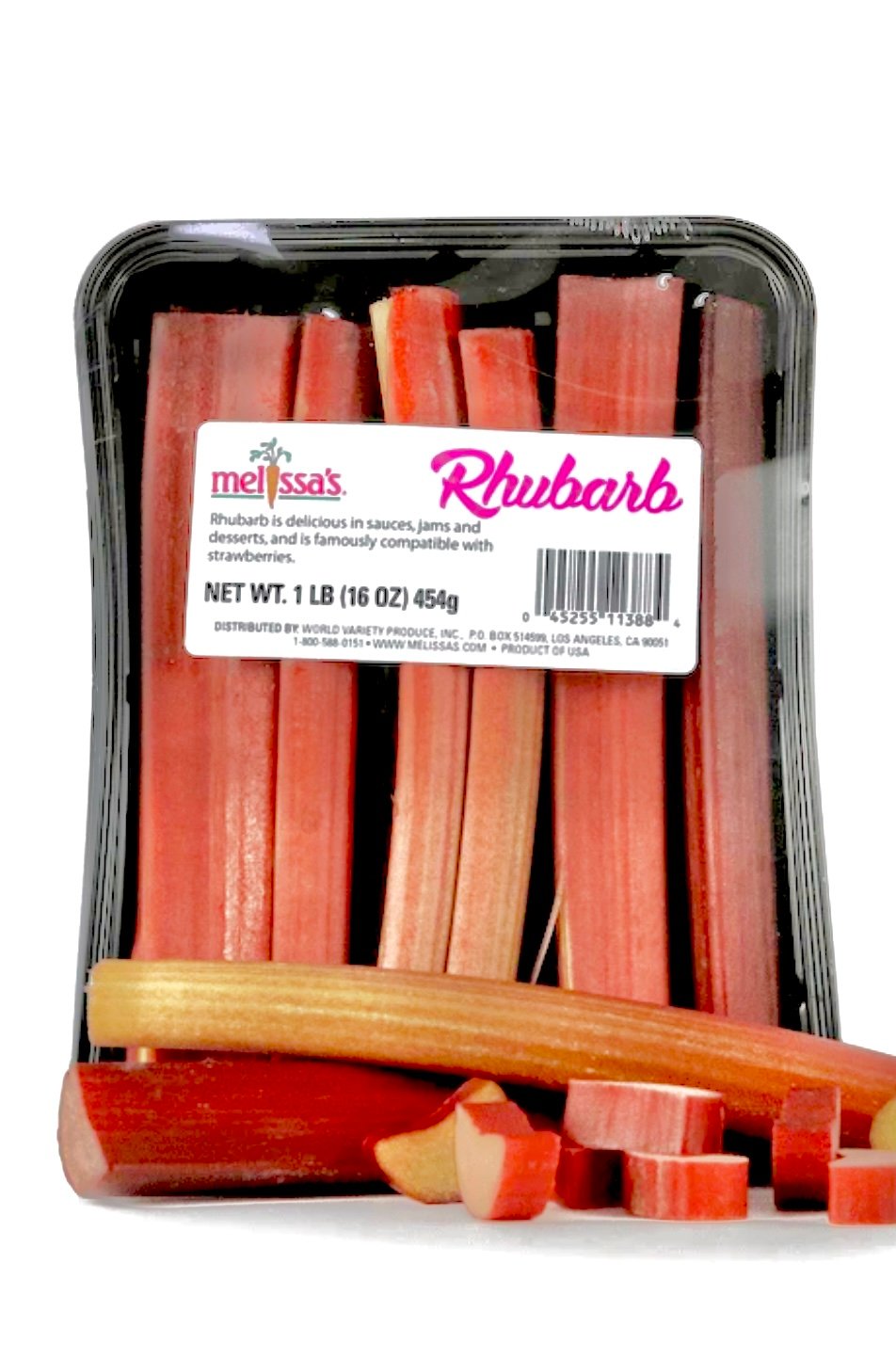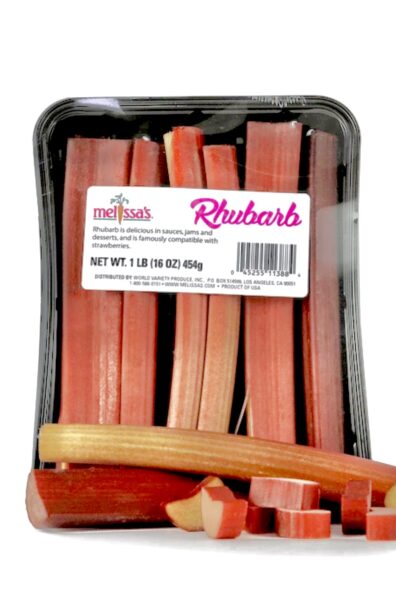 Here, Melissa's has trimmed the stalks. All you do is wash and cut.
I used an 9×13 sheet pan for my tart. I first cut my large sheets in half to fit the smaller pan. As I layered the phyllo sheets into the pan, I buttered each one.
You may need to use more phyllo sheets according to the thickness of your sheets. Recipe below.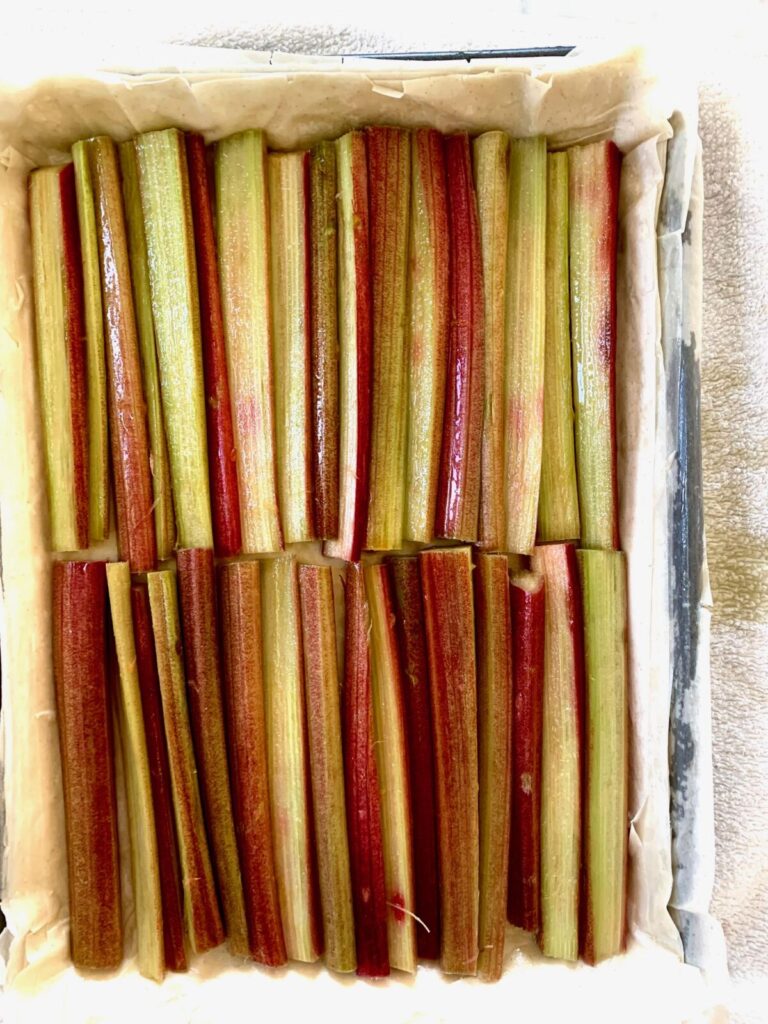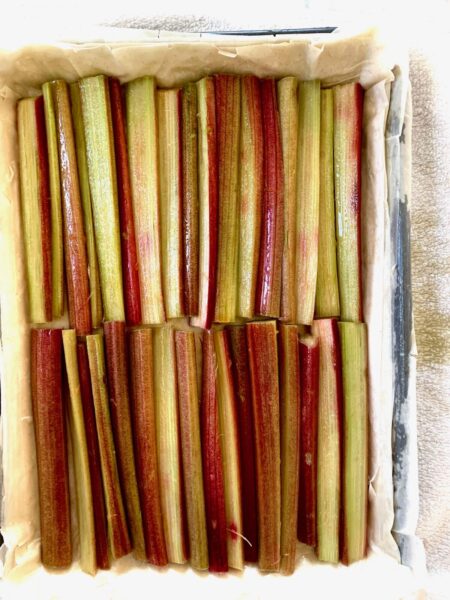 Place in a quarter sheet pan overlapping slightly.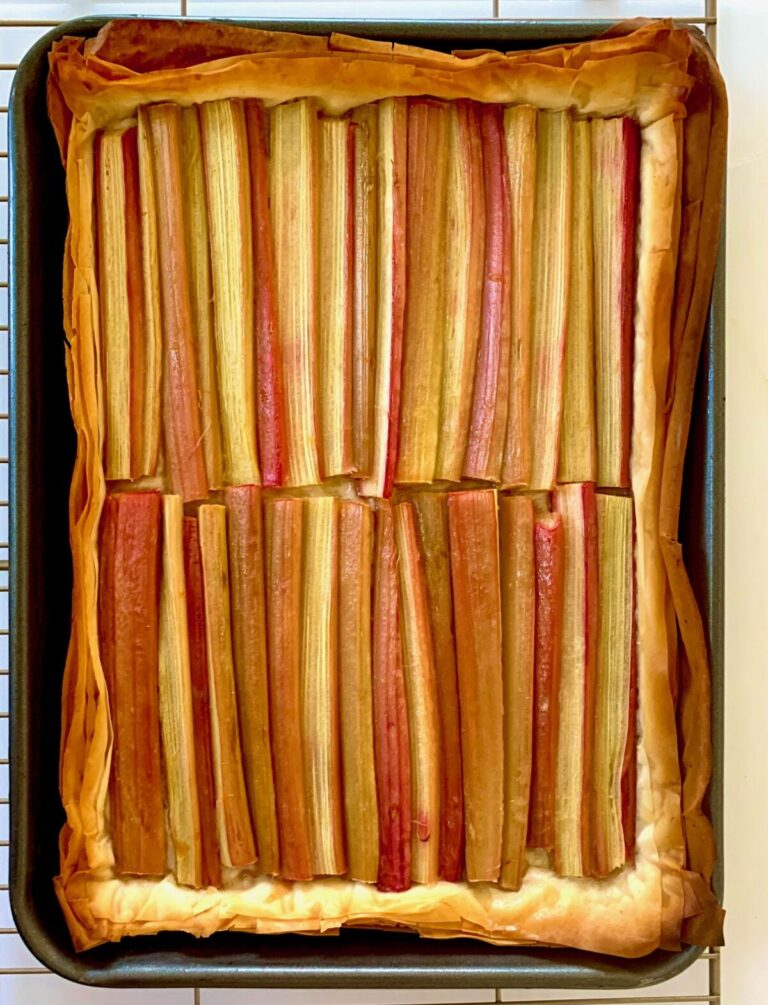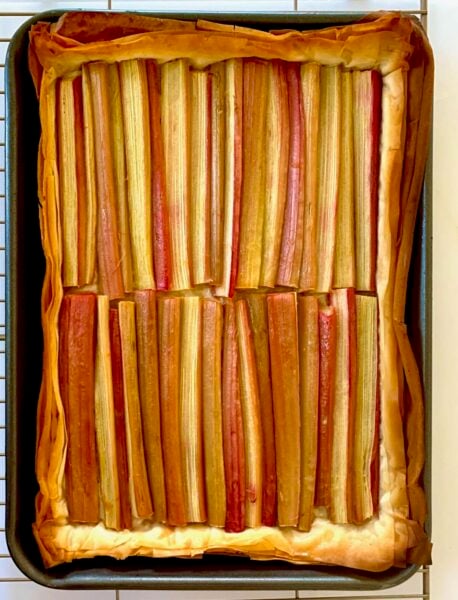 Bake and set aside to cool on a rack.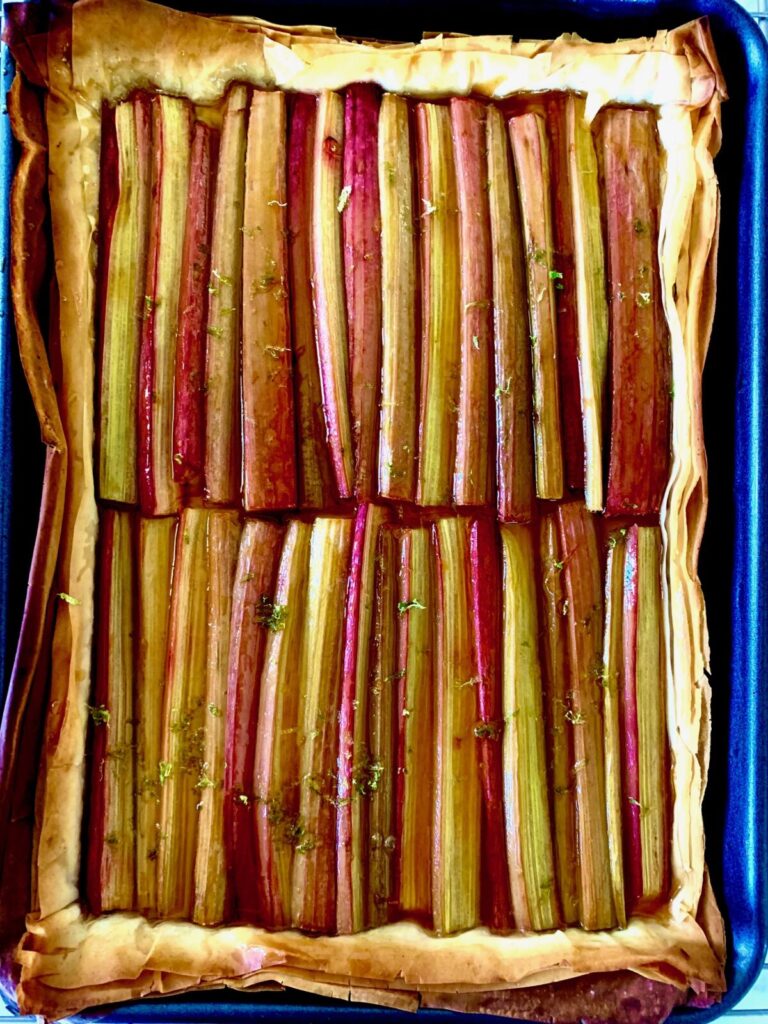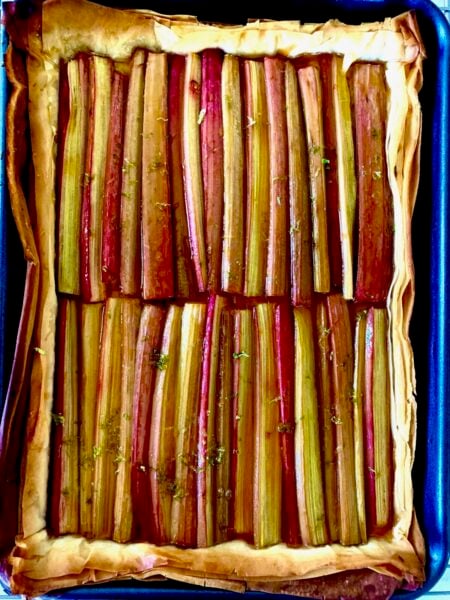 Brush the reduced syrup onto the top of the tart. Sprinkle with lime zest.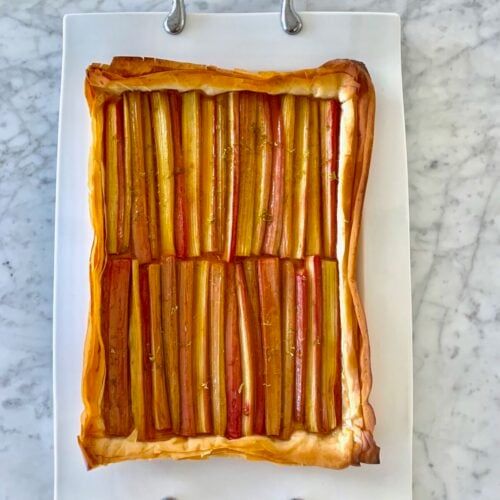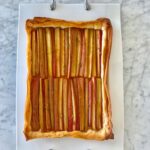 Rhubarb Phyllo Tart
You cannot pass up Rhubarb season! This tart is a crowd-pleaser and easy to assemble.
Ingredients
1

cup

fresh orange juice

1

tablespoon

fresh lime juice

1/2

cup

sugar

3-5

stalks

rhubarb , thinly sliced -1/8 inch

1/2

teaspoon

grated lime zest

6

full sheets

defrosted phyllo sheets ,cut in half.

1/2

cup

melted unsalted butter

1

cup

heavy cream, whipped for topping
Instructions
Preheat oven to 375 degrees with rack in the middle.

In a flat glass pan, stir together the orange juice, lime juice and sugar. Add the sliced stalks for 10 minutes. Set aside.

Using a quarter ( 9x13) sheet pan, brush the bottom of the pan with melted butter. Cut full sheets in half if needed. That will give you 12 layers for the tart. Layer phyllo dough onto the pan, buttering each layer until all the layers are used. Butter the top layer.

Strain and pat dry the stalks, keeping the juice for the glaze.

Layer the stalks, overlapping slightly.

Place the tart in the oven and bake until bottom is golden, for 30 minutes, cover with foil if phyllo edges has browned. Continue baking. Test the rhubarb for doneness with a toothpick. Remove and place on a rack to cool.

In a small saucepan, add the reserved juice and simmer until reduced to 1/4 cup. Once thickened, similar to maple syrup, remove and cool slightly.

Brush syrup over tart and phyllo, sprinkle with zest. Serve with whipped cream.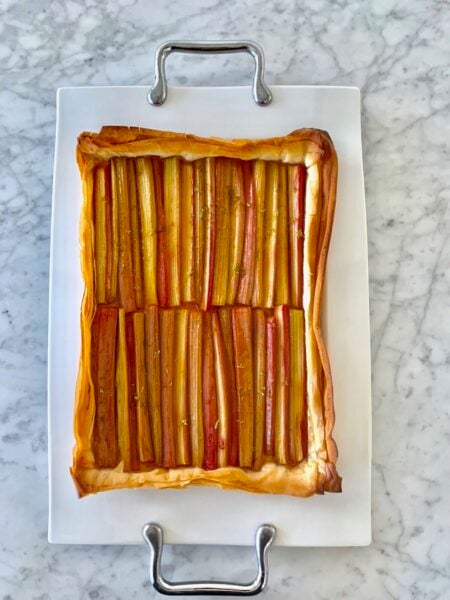 I encourage you to visit your farmer's market or supermarket and bring home rhubarb!
Best in Health,
Mary  
{ 0 comments }